A new image of a
custom made
version of Mobile 92 with the modern classic
Mies van der Rohe
daybed (to illustrate the size of the mobile). This version is 5.5 feet tall and 4.5 feet wide, made with sheet metal, wire, rivets and a metal weight.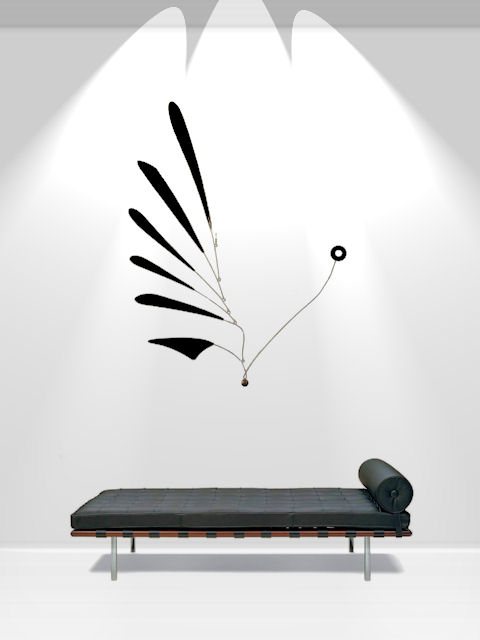 It's obviously a mobile, but even more so a hanging
kinetic sculpture
in the true sense of the term. It moves beautifully with the air currents and is built strong enough to be hung outdoors, too. It can easily be installed hanging from a ceiling and would show off very nicely as a flat wall sculpture as well. I like this piece a lot. It's truly beautiful, and I think it would go well with a more sophisticated interior design style, mid-century modern or contemporary.
AND
Two new custom ceiling / hanging mobile ideas
Available custom sized small or large
Indoor or outdoor
Custom colors
The shapes would be made out of aluminum sheet metal to keep the mobiles light and sensitive to air currents / wind (keeping them kinetic)
Each element in these hanging mobiles can rotate full circle independently from the other elements in the mobile, giving the mobiles theoretically and infinite number of ways to align themselves